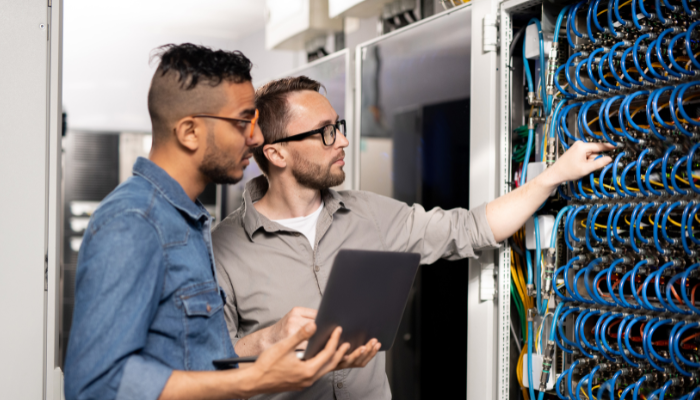 Onsite IT support services is very important now a days. Technology is still advancing quickly, with new standards, product lines, and services appearing daily. In turn, this is altering how firms run and manage routine IT maintenance or IT support services. Whether you are servicing several branch sites or distant offices, a local technician's knowledge can be extremely helpful in resolving IT problems and elevating end user happiness.
There are a few ways that businesses can overcome the difficulty of keeping up with the most recent IT trends and technology, but outsourcing your IT and switching to onsite tech support may be the quickest and most effective solution.
"Just what does "onsite support services" entail in IT? It is, briefly, a managed IT service provider with an established network of specialists who can solve localized IT difficulties and helps manage various components of an organization's IT solution, such as break/fix support, aid with unique IT projects, cabling, and more."
Why prefer to IT onsite support in IT field?
Even tiny businesses require IT help, just like large organizations do, because software is changing so quickly. Because of this, the concept of onsite Networking support services emerges as a solution for large enterprises and SMBs (small and medium businesses) to keep up with the times.
Increased Productivity
Lack of productivity is one of the significant issues businesses encounter when attempting to handle their own IT services. Employees squander time performing tasks that technicians could complete more quickly to increase the efficiency of your systems. These activities include fixing problems, setting up networks, updating software, and other onsite IT support services.
Utilize the Best Tools for Your Business
New computer technologies are being developed daily, and they are making management in both major organizations and small businesses easier. The issue is that you cannot use all the available tools if you do not have your own IT staff.
You can relax knowing that the IT support you choose for your business is utilizing the greatest technology and software currently on the market. As they provide end point security, mobile device management, cloud backup, onsite IT support and more.
Network Safety
Ransomware and other sorts of attacks on your network infrastructure become a concern when your staff are working on projects that are not beneficial to the business. Having a professional IT Team working for your business can help you identify and resolve these security risks. By doing this, you can maintain the security of your network and protect your data.
Spend less on your technical requirements
Finally, compared to outsourcing your IT support requirements, having an on-site tech support crew can result in long-term financial savings. It will be less expensive for you to hire a company to handle all your technological demands than to try and hire full-time staff to do this.
It is much simpler for businesses of all sizes to hire onsite support services because they can frequently negotiate arrangements with them directly. By using IT support specialists, you can save money by letting your experts concentrate on their tasks rather than yours.
Most businesses who have taken this step ahead have experienced the many advantages of hiring onsite support or technical help. Software is evolving so quickly that it can be challenging for businesses to keep up with the changes unless they have the staff to support it.
Where you can find best IT Onsite Support
If you call your IT service provider, they might be able to remotely fix some technical problems for you. On the other hand, if your system is having complex issues, more than remote IT support may be required. At least some of these problems will require your participation to be resolved. Are you trying to find a reliable company that can offer support onsite anywhere in Dubai or Abu Dhabi? then you arrive at your destination. Put your concerns to rest knowing that only VOIPBIRD can offer the services you require in the IT solutions industry.
The greatest decision you can do is to contact us so that we can offer onsite support services for your IT if the issue with it is serious enough.
Contacting a customer service help desk person is the initial step. Using whichever method is most practical, our specialists will help you handle the situation by remotely entering your machine and giving you some instructions. If the specialist is unable to resolve the issue remotely over the internet, a skilled technician of VOIPBIRD will visit your area to fix it. There is no reason to be concerned about getting more equipment and software. The skilled person will bring the required hardware and software for the job.
Why VOIPBIRD IT Services?
The team at VOIPBIRD IT Services is one of the best in Dubai and Abu-Dhabi, and it is led by a collection of intelligent experts who are also notably inventive and technically proficient. The staff collaborates closely with clients and ensures unmatched quality at each stage and in every little thing. For the effective and professional achievement of our clients' business objectives, we provide full-service remote IT support and onsite support services in Dubai and Abu-Dhabi. IT project management, cloud-based services, strategic IT consulting, disaster recovery planning, and IT infrastructure build-out and maintenance are all handled by VOIPBIRD IT.
24/7 Support
Any business-related medium should offer twenty-four-hour support. But expecting staff members to be available round-the-clock, every day of the week, is unreasonable. The use of resources to hire those who are willing to do it will also be a poor use of those resources. However, there are some support services, like IT support, where it is crucial for the company to always have a specialist on call or at the very least on standby. Our professional staff and technician will available 24/7 stand by to resolve your issues.
Our Methodology
We use a seven-step delivery approach that records all your project's specifics from beginning to end to make sure that every project we work on is effectively delivered and finished. To ensure completeness and attention to detail at every stage, there are definite deadlines for each element of the process that must be met before your project may forward.
We offer managed services in many ways. We have flexible contracts, allowing you to only pay for the services you use. We care about our customers, and we go beyond to create connections that win your trust.
VOIPBIRD Onsite IT Services