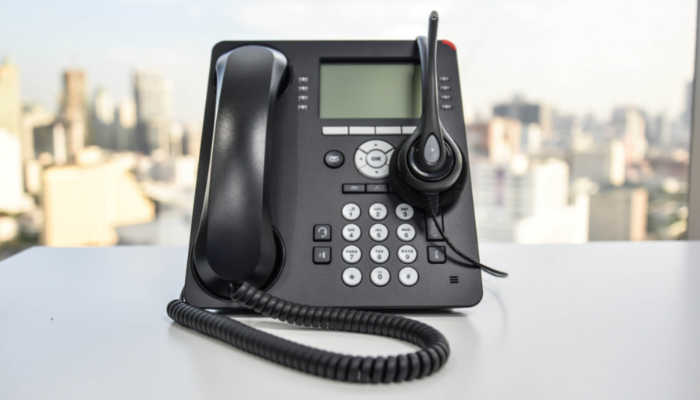 A telephone system is a communication system that allows people to make and receive phone calls using a network of interconnected devices, such as phones, switches, and servers. In an IT context, it may refer to a system that is used to manage and route telephone calls within a business or organization. This can include features such as voicemail, call forwarding, conference calling, and automatic call distribution. The public telephone network (PSTN) and private networks like local area networks (LAN) and wide area networks are both options for connecting and using telephone systems.
Telephone systems can be analog or digital, and they can operate over any of these networks. Some telephone systems also include integration with other communication technologies, such as email and instant messaging.
Any phone system that sends and receives voice data via the internet is referred to as IP telephony. IP telephone system connect to the internet via a router and modem, as opposed to traditional telephones, which require landlines to transfer analog signals.
PBX Telephone System
A private telephone network that enables users to communicate with one another is known as a PBX, or private branch exchange. The link to the telephone network is provided by a number of hardware elements working together.
The internal phone network of a business is managed by a PBX. A PBX telephone system controls call routing and sophisticated calling functions for both incoming and outgoing calls
Multi-Line Telephone System
A multiline phone system enables simultaneous use by numerous callers. Internal or external lines are both acceptable. While internal lines let you connect with your coworkers and employees, external lines let you communicate with those who aren't part of the company, such consumers.
Traditional phones, on the other hand, are only intended to convey audio data between two individuals at once. This is where multiline telephone system and traditional phone systems differ from one another. Multiline phone allows numerous parties to be on the phone at the same time.
Call Center Telephone System
The Call Center telephone system is a solution that offers cutting-edge solutions to facilitate customer phone communication. They are separated into Inbound Call Centers and Outbound Call Centers based on the volume of calls handled. Incoming traffic is handled by the first, and outgoing calls are handled by the second.
Why Need Telephone System?
Telephone system is an integral part of any organization because they provide a means of communication between employees, clients, and external partners. This can be especially important for businesses that operate in different locations or have a large number of employees, as it allows for easy and efficient communication between all parties.
Additionally, it can be used to handle customer inquiries, complaints, and orders, which can improve the overall customer experience and satisfaction. This can be especially important for businesses that rely on customer service as a key part of their operations.
Furthermore, telephony systems can be integrated with other communication technologies, such as voicemail, conferencing, and messaging, to enhance collaboration and productivity within the organization and can also be use as small business telephone answering system. This can help to streamline communication and decision-making processes, which can ultimately lead to a more efficient and effective organization.
In summary, these systems are an essential part of any organization as they provide a reliable and efficient means of communication between employees, clients, and external partners, enhance customer service, and can be integrated with other communication technologies to improve collaboration and productivity.
Where to Find Telephone System Service?
VOIPBIRD is a leading telephone system provider in the United Arab Emirates. With a team of experienced professionals and state-of-the-art technology, VOIPBIRD is dedicated to delivering the highest quality phone systems to businesses of all sizes.
Our comprehensive phone system service includes installation, maintenance and support, ensuring that our clients can enjoy seamless communication at all times. Our systems are designed to be flexible and scalable, allowing businesses to easily add or remove lines as needed.
In addition to traditional phone system, VOIPBIRD also offers VoIP (Voice over Internet Protocol) solutions, which use the internet to make and receive calls. This can help businesses save money on long-distance and international calls, as well as providing additional features such as call forwarding and voicemail.
At VOIPBIRD, we understand the importance of reliable communication in today's fast-paced business world. That's why we strive to provide the best possible service to our clients, ensuring that their telephone systems are always running smoothly. If you're in need of telephone system provider for your business in the UAE, look no further than VOIPBIRD.
There are many reasons why you should choose our telephony system services:
Reliability:
Our systems are designed to be reliable and efficient, ensuring that your business can communicate seamlessly at all times.
Customization:
We offer a range of small business telephone answering system to suit the needs of different businesses, and our team is happy to work with you to find the best solution for your specific needs.
Cost-effective:
Our systems are designed to be cost-effective, with competitive pricing and the option to choose between traditional phone systems and VoIP solutions.
Customer service:
VOIPBIRD's team is dedicated to providing the best possible service to our clients, with quick response times and knowledgeable support staff.
Scalability:
Our systems are scalable, allowing businesses to easily add or remove lines as needed.
Overall, choosing our IP phone system service ensures that your business has access to reliable, cost-effective, and customizable communication solutions